Hello, I'm Pat.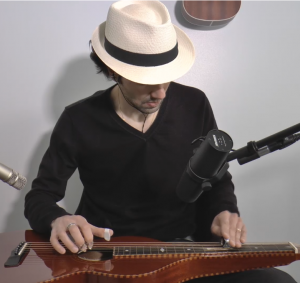 I'm from Marseille, France. I've started playing the guitar in my teens, first acoustic then electric guitar, mostly self-taught. I've played and gigged with a number of  bands over the years, including my last band "Melodic Murmur" with which I've written, recorded and engineered two albums (check them out here) and played lots of gigs from 2011 to 2013.
Although i've started as a guitarist, i've always had a passion for all kinds of stringed instruments and the day i picked up a dobro, i instantly fell in love with its unique distinctive voice. Since then, i've picked up other steel guitar instruments (lap steel, weissenborn…) and they have now become my new obsession 🙂
But regardless of instruments, learning is what drives me.
Learning is a such a powerful thing. It gives you creativity, it makes you think, it makes you grow.
I love learning from others as much as i love teaching to others what i've learnt along the way.
Being self-taught, i've learnt A LOT from transcribing and playing songs. Songs are not only a fun way to enjoy yourself with your instrument but you can also learn so much from them: theory, technique but also dynamics, emotions…
With that in mind, i created www.learningwithpat.com in 2015 and my goal is to provide high quality easy-to-digest tutorials with a song-based approach.
I hope my lessons will help you in your quest to play the steel guitar. Have fun!