Hi, I'm Pat.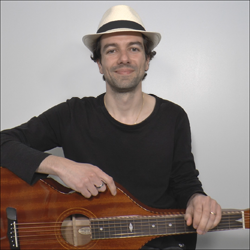 Welcome to my steel guitar lessons website, where you will learn how to play in steel guitar fashion (dobro, weissenborn, lap steel) with a song-focused approach.
All my lessons are carefully designed with this SONG-FOCUSED approach where you will learn any skills or theory in a MUSICAL WAY. Because whatever it is that you want to learn on an instrument, you should never forget to ENJOY YOURSELF and best way to do that is to LEARN SONGS or to PRACTICE MUSICALLY!
If you're getting started on the dobro, I've designed a FREE (to-be-completed) dobro beginner course where you will learn the basics of this instrument. From there, you can either dig deeper with my intermediate series or start learning songs.
I also have a whole section of this site all about open D tuning and weissenborn (which you can also tackle using a dobro or lap steel tuned to open D 🙂 ) as well as a C6 lap steel and A6 lap steel series.
READY? START LEARNING NOW AND JOIN OVER 2500 STUDENTS WHO TRUST MY LESSONS 🙂
What people say about www.learningwithpat.com :

"I've tried several dobro and weissenborn learning resources and Pat's lessons are by far the best! Pat takes time to break down every little detail and nuance to help you play the song exactly as you hear in the demos! Give his lessons a try, you won't be disappointed!"

John S. - GA, USA

May. 2023

What people say about www.learningwithpat.com :

"Pat is a wonderful teacher as well as being an accomplished dobro player.
As a beginner you don't want to clog your mind with ornamentation or even just the correct notes as you play along. He breaks down every note as well as every phrase in a very patient manner. He even breaks down the timing as you progress. This guy is an ace player who really understands the learning process. Highly recommended"

Myron L. - Belleville, ON, Canada

Jan. 2022

What people say about www.learningwithpat.com :

"First time customer of Pat and all I can say is BRILLIANT! It's great that that there is tab and lessons separate however, the lessons are very high quality and would recommend getting them particularly if you are new. Thanks, Pat!"

Mike B. - Australia

May 2021

What people say about www.learningwithpat.com :

"I am very impressed with your lessons: the continuity of style, the ease of access...Every lesson, I became more and more certain that I'd finally found a Dobro teacher to follow."

R.D. Blount - IA, USA

Jan. 2021

What people say about www.learningwithpat.com :

"I am just a mediocre player and your lessons are done in such a way that even a guy like me can enjoy myself in learning a new song.
It's been hard to find a place where I can find lessons that enable a player like myself to learn without getting discouraged and still be able to play music that I enjoy.
Your lessons are nicely presented and your calm and quiet demeanor on the video makes learning enjoyable. Your playing skills are also quite amazing."

Larry Carlson - MN, USA

August 2020

What people say about www.learningwithpat.com :

"I believe that I have, by now, tried using almost all of the most prominent and successful dobro learning resources that are available on-line. And I can safely say that 'Learning With Pat' is, in general, at least as good as any of the others, and in some important ways it is better than any of them. So, although choosing a teacher is bound to involve personal preference, I strongly recommend anyone who is learning the dobro to at least give 'Learning With Pat' a try!"

Richard Astor - Cape Town, South Africa

April 2020

What people say about www.learningwithpat.com :

"I have had two lessons from Pat and find his teaching method excellent. He demonstrates very complicated moves in a detailed and easy to understand way. I would recommend Pat's lessons to anyone, ie. beginners to advanced."

Christy Keeney - Ireland

Feb. 2020

What people say about www.learningwithpat.com :

"My husband and I have sat and listened to a lot of your videos for a long time and just want to tell you not only how talented you are but skilled! Wow! We love your technique and patience in teaching with all the explanations. You are just wonderful! I am looking forward to learning how to play my new GRETSCH, but after hearing the Weissenborn.....I am hoping I will enjoy one of those some day too."

Mary Ann Hetrick - USA

Dec. 2019

What people say about www.learningwithpat.com :

"I am really enjoying my lessons with Pat. I am not making progress like I would like to, but I am getting a little long in the tooth and just need to practice more.
Thanks Pat, excellent teaching!"

Daniel Carter - Hawkins, TX, USA

Oct. 2019

What people say about www.learningwithpat.com :

"Your site inspired me to purchase a weissenborn and I am just getting into two of your lessons. It's not easy but rewarding and your lessons are great - thanks Pat!"

Bill D. - Toronto, ON, Canada

August 2019

What people say about www.learningwithpat.com :

"The lessons I purchased have allowed for me to become a much more educated and better weissenborn guitar player!
Consider me as a satisfied and returning customer, thanks Pat!"

Richard Lewis - Birmingham, AL, USA

May 2019

What people say about www.learningwithpat.com :

"Thank you so much for your arrangements, Pat, they are beautiful. Your videos, sound tracks and manuscripts look very professional and I am extremely pleased with your products."

Jim Rouse - FL, USA

Jan. 2019

What people say about www.learningwithpat.com :

"I bought my first dobro lesson from "Learning With Pat" and am very happy. I got "Sweet Beulah Land" to start.
Pat, in the expanded lesson, takes a few measures at a time (short phrases) and iterates several times. I find I can follow what he is doing and after the 3rd or 4th iteration, I can play along. Next thing you know, you get through the entire song. The split-screen closeups of the right and left hands are great. Pat is trying to make sure you learn instead of just watching or listening to him play.
I appreciate very much his teaching methods."

Ed Cykowski - Houston, TX

Oct. 2018

What people say about www.learningwithpat.com :

"I highly recommend "Learning With Pat". The lessons are great and easy to learn.
I'm 75 years old and have never played an instrument. I can also say Pat is very helpful if you need help. Thank you Pat!"

Brian Colloton - Claresholm, AB, Canada

Sept. 2018

What people say about www.learningwithpat.com :

"I'm just learning the lap steel and dobro and Pat's website is more to my taste than anything that I have seen. I like your adaptations and feel and will probably purchase several lessons over time. Thank you for making these lessons available!"

Ronnie Ray - OR, USA

August 2018

What people say about www.learningwithpat.com :

"After some years of not doing anything with my dobro, I stumbled across Pat's site and thanks to the easy to understand and well-explained lessons have become enthused again and plunking away every chance I get. Thanks Pat!"

Aindriu Burch - Australia

July 2018

What people say about www.learningwithpat.com :

"Pat is the best online teacher i have come across. His lessons are very well thought out."

Arturo Ciotta - Italy

June 2018

What people say about www.learningwithpat.com :

"Pat is such an excellent teacher in all that he does and his delivery instruction is above and beyond. So glad I found his website."

Christine Jenkins - NC, USA

May 2018

What people say about www.learningwithpat.com :

"I've not long started playing the dobro and I find Pat's lessons easy to follow and well presented. Pat really helped me get started with his beginner's lessons. I would have been struggling without them."

Gary Mudge - Australia

April 2018

What people say about www.learningwithpat.com :

"I'm so happy to have come across Pat's lessons. I find that the best learning for me comes from a well spun tune that pulls me into it, revealing cool licks and phrases that I'll be able to use in other tunes. If it's really well thought out, I get to pick up a rich toolbox of technique as I go. Pat has packed all of this into his arrangements, making learning exciting and fun.
Pat's video accompaniments untangle the knots that would have held me back much longer, showing an economy of playing that makes a higher level of playing possible."

Clare Innes - VT, USA

March 2018

What people say about www.learningwithpat.com :

"I've just started learning the dobro and Pat's lessons are great, especially how they are broken down into small sections and played slowly.
Thanks Pat, keep the lessons coming!"

Christopher Williams - UK

Feb. 2018

What people say about www.learningwithpat.com :

"I recently purchased the dobro lesson for "Sweet Beulah Land" and would like to say this is a great lesson. The presentation is excellent...very easy to follow.
I will purchase more lessons in the future...Nicely done, Pat, and thanks a bunch!! I dig what you do!"

Norris Self - AR, USA

Jan. 2018

What people say about www.learningwithpat.com :

"Pat's lessons are just amazing in comparison with the offer available on line.
The video quality, practice tracks and support documents (tabs) are top-notch and immerses the user in a musical environment which fosters more attention to playing and provides lots of enjoyment as you progress.
If you are a newcomer to steel guitar or just want to expand your repertoire, I highly recommend his "Song Lessons", A MUST HAVE !
The site provides an excellent navigation experience with secure payment methods. Pat also excels in customer care and promptly responds to inquiries and specific requests.
I am a fan... and seldom found so much value for money!"

Carlos Mallmann - Paris, France

Dec. 2017

What people say about www.learningwithpat.com :

"I'm a beginner/intermediate weissenborn player and I've been looking to take my playing to the next level.
With Pat's videos I've been able to learn a couple songs that I've really wanted to learn for a long time. He does a great job of breaking the songs down into very simple steps. He even helps me learn a little music theory along with weissenborn. My understanding of the notes along the neck of the weissenborn has increased quite a bit. I honestly feel like this is better than a live weissenborn lesson. I can pause and replay over and over. I can practice as much as I want and I can replay it whenever I want.
Great work, Pat. I highly recommend."

Josh Wise - CA, USA

Nov. 2017

What people say about www.learningwithpat.com :

"As a beginner I am so impressed with Pat's clarity of tablature and video presentation. I will definitely be purchasing more lap steel lessons from him in the near future and would not hesitate to recommend him to anyone interested in lap steel guitar."

Edward Monaghan - UK

Oct. 2017

What people say about www.learningwithpat.com :

"I want to thank Pat for all of his help and patience with an old man (78) who is not computer literate nor
musically inclined. I have downloaded lessons from two other sites: Pat's is by far the best!"

Harry Pepe - PA, USA

Sept. 2017

What people say about www.learningwithpat.com :

"I've downloaded several lessons from Pat and found the tabs set out very clear, the video and sound are of highest quality and simple to understand, all step by step. I had a problem downloading as I made a mistake, I emailed Pat from Tasmania and within 15 minutes I had a reply and was able to correct my problem. I highly recommend Pat's lessons, they are great!!!"

Roger Ardley - Hadspen, Tasmania

August 2017

What people say about www.learningwithpat.com :

"Really useful lessons beyond just being able to play the number being taught they will help you to get your head around other music you want to play. A good grounding."

Martin Bennett - Lincolnshire, England

June 2017

What people say about www.learningwithpat.com :

"Pat's teaching is perfect for me. The close-up of your left and right hands in synch, and the measure-by-measure counting and tabs is so conducive to learning. Both visual and learning-by-ear students can effectively learn with your videos. Your music theory is great for students who understand music theory, without staying so long on the subject as to bore others. You show how to put feeling in the music, and not just to play notes.
I will be using many of your videos and telling others."

Jim Wilson - Moneta, VA

May 2017

What people say about www.learningwithpat.com :

"The action of the right and left hands is very valuable and well done. Your commentary is quite helpful as well. I am an amateur so your going through each measure slowly is extremely helpful. All in all your lesson presentation is the best I have seen. I will be doing more with you in the future. Thanks so much for the professional presentation."

Donald Manson - Spokane, WA

April 2017

What people say about www.learningwithpat.com :

"I recently started to play dobro and found Pat's lessons on YouTube. His lessons are clear and well explained.
I also went through technical issues on my iPad (not enough space) and Pat has helped me until everything was fixed.
Thank you!"

Ed Hamstra - Amsterdam, Holland

March 2017

What people say about www.learningwithpat.com :

"I am really excited to find Pat's lessons. He's an excellent teacher and his music choices are really fun. There can never be enough dobro options in the world!
Recently I ordered a lesson and had problems downloading it in my rural Alaskan town (slow ISP). Pat responded to my problem very quickly and worked hard to solve the problem. Thank you, Pat!"

Artemis BonaDea - Gustavus, AK

March 2017

What people say about www.learningwithpat.com :

"I am studying resonator and weissenborn guitar online and Pat's lessons, tablature and performance tracks are some of the best I have found.
I like Pat's attention to the little details of learning how to play the song, and his gentle patient presentation. He has been very responsive to my emails and questions.
Happy Student :)"

Doug McBrierty - Huntingtown, MD

March 2017

What people say about www.learningwithpat.com :

"I have found Pat's method of teaching to be straightforward and easy to follow. If you want to learn very nice arrangements for solo guitar work, these are some of the best I've been able to find on the Internet. Keep them coming Pat, I'll send you a few ideas for some tunes that would work very well with your unique playing style. A lot of what is learned in these lessons can be applied to your own improvising."

Bob Thomas - Canada

Feb. 2017

What people say about www.learningwithpat.com :

"Purchased Pat's lessons and was having trouble downloading. He was quick to respond to my problems and assist in me getting the download to work. Have reviewed the information and am now trying them on my Dobro, his instructions are great! At age (somewhere between 60 and the grave), who says with the proper instructions you can't teach an old dog new tricks? Thanks Pat for your patience and instructions!"

Bobby Eudy - NC, USA

Jan. 2017

What people say about www.learningwithpat.com :

"I took a look at Pat's dobro program and I have to say it's very comprehensive. Great for us new to the instrument.
Pat shows a very methodical way to learn, and it doesn't seem overwhelming where you feel panicky trying to keep up. The progress I'm making is good, it's encouraging. Thanks a bunch Pat, I'll certainly be back for another lesson."

Mike McDonald - RI, USA

Jan. 2017

What people say about www.learningwithpat.com :

"Good information, especially for beginners like me. I made more progress with Pat than any other online teacher of the Dobro.
Highly recommend his videos."

Trina Ballantyne - Auckland, New Zealand

Dec. 2016

What people say about www.learningwithpat.com :

"Pat's lessons are very well done, easy to follow and well-paced. His arrangements are simple enough for a beginning lap-slide player to master but still complex enough to sound lovely."

Becky Johnson - B.C., Canada

Dec. 2016

What people say about www.learningwithpat.com :

"Pat does a fabulous job with his lessons, very clear with explanation and demonstration. The audio and video are excellent as well.
I recently purchased some lessons for Weissenborn style guitar. The way the lessons are set up, I found it easier than expected to make good progress right away!
Pat is also very patient not only with his instruction but also his interaction with me on the lessons I purchased. Out here in the wilds of Washington State we still have lousy internet so I wasn't able to do the downloads at home. He very patiently and with much courtesy worked with me so a friend in Seattle could download them for me.
Thank you Pat!"

Jonathan Scherer - Stehekin, WA

Dec. 2016

What people say about www.learningwithpat.com :

"These are the only lessons that I learn something from...Pat's style of teaching is great and understandable unlike others who are at times confusing. The one good teaching site for both the dobro and the weissenborn on line in my opinion. Keep them coming, Pat!"

Mel Chamberlain - U.K.

Nov. 2016

What people say about www.learningwithpat.com :

"If you are looking for dobro lessons then look no further than learning with Pat. The lessons are crystal clear and everything explained in great detail. The picture quality is fantastic and Pat obviously cares a lot about what he does.
Living in Scotland, it is not easy to find anyone who teaches dobro and after trawling the internet for lessons I have finally found what I am looking for. In just two lessons my playing has improved already.
Keep them coming Pat, I am looking forward to future lessons! Thanks again!"

Graham Robertson - Motherwell, Scotland

Oct. 2016

What people say about www.learningwithpat.com :

"I found with Pat all that I expected to start playing the dobro. The lessons are clear and relevant. You feel that Pat wants to help you learn and he does it in a very natural and positive way. Pat also responds quickly when needed. I bought the "Amazing Grace" lesson which allowed me to learn smoothly. Now I really want to tackle something more punchy, such as "Freight Train".
Go for it! you will not be disappointed :)"

Arnaud R. - Bordeaux, France

Sep. 2016

What people say about www.learningwithpat.com :

"As a beginning Weissenborn player I'm excited to start my lessons with Pat. His videos are excellent and his arrangements beautiful, clear and concise. I'm starting with "Time After Time" and then will jump into "Freight Train"."

Stew L. - Colorado Springs, CO

June 2016

What people say about www.learningwithpat.com :

"I recently purchased the tab and tracks to Josh Graves signature song "Fireball" and this is the most accurate transcription I have heard.
Highly recommend Pat's lessons to anyone wanting to learn the Dobro."

William P. - NC, USA

June 2016

What people say about www.learningwithpat.com :

"All of Pat's videos are spot on. I really like how you break down counting the rhythms and your other video offerings with basic fundamental music theory.
Quite often teachers provide video or online instructions at a pace that is too fast for the beginner. I would recommend your videos to any beginner or beginner/intermediate."

Dave Falk - Royal Oak, MI

May 2016

What people say about www.learningwithpat.com :

"As a newcomer to the Weissenborn I am really enjoying Pat's learning materials.
High quality video and sound, straightforward to follow and a personable teacher. Very reasonably priced too.

Thanks Pat, keep them coming!"

Alan Quinn - UK

May 2016

What people say about www.learningwithpat.com :

"As a Weissenborn enthusiast I was surprised and delighted when I purchased Pat's lesson for "Time After Time" in open d tuning. His lessons are great value for money and offer concise structured instructions delivered in professional and friendly manner. I will be undoubtedly be coming back "time after time" 😊

Aron Radford - Weissenborn recording artist and administrator of "The Weissenborn Information Exchange"

http://www.aronradford.com/home.html
http://www.theweissenborninformationexchange.com/home-page.html"

Aron Radford - UK

May 2016

What people say about www.learningwithpat.com :

"I can only speak as a 67 years old beginner, Pat is great, his lessons are to the point and fully understandable. He does not show off with a bunch of hot licks and things you can not grasp as a beginner. He has helped me more than anyone! thanks!"

Allen B. - Indianapolis, IN

April 2016

What people say about www.learningwithpat.com :

"I whole heartedly and unreservedly recommend Pat's lessons for all levels of square neck / lap style steel guitar students, including folks beyond beginner level who want to learn specific songs, some of the music theory we all reluctantly have to learn, and much more. The pace of the lessons is good even for beginners. The tablature included in each lesson is very helpful. The backing tracks to practice along with are invaluable for those of us who do not have an infinitely patient backing band to play behind us as we learn the chords and scales. Thank you, Pat, for advancing my knowledge and chops!"

Mark T. - Cleveland, OH

March 2016

What people say about www.learningwithpat.com :

"Have just finished learning Pat's arrangement of "Amazing Grace". It's such a wonderful tune with lots of different arrangements available, but none to match this one, in my opinion. The relaxed approach, but superb tone & playing style, that Pat brings to his lesson, makes learning a pleasure. I found it both simple & challenging. A slow arrangement with fairly simple right hand picking, but a real challenge to achieve precise intonation & allow the tune to rise to its potential. To me, these are the most enjoyable tunes to practice, & I just love to put the backing track Pat provides into a loop, & get lost in the melody as I try to get the tone & feeling it deserves. I know this will help me in my journey to become a better dobro player. Thanks Pat!"

Stan Bond - Indianapolis, IN

Feb. 2016

What people say about www.learningwithpat.com :

"I've tried video instruction from many teachers and often found them more discouraging and sleep inducing than helpful. I like the way you break your instruction down by measures and allow the user to advance at their own pace. Moreover, as an instructor, you're patient and totally unpretentious which makes learning from you a lot easier regardless of the student's performance level."

Paul Harris - Greensboro, NC

Feb. 2016

What people say about www.learningwithpat.com :

"I would highly recommend Pat's Dobro lessons. I have learned very quickly by watching and absorbing Pat's methods and techniques. His presentation and style of explaining proper instructions is easy to understand and grasp. The video and camera angles are very sharp and clear, which makes it easier to follow along. The tablature and jam tracks provided with each lesson are very useful and professional. Very polished, a great musician and teacher that wants to help you learn!
I look forward to many more lessons!
Keep up the great work!"

Irene Kaiser - Grand Rapids, MI

Feb. 2016

What people say about www.learningwithpat.com :

"After watching a sample of Pat's work on Resohangout, I was persuaded to purchase a pkg.  arrangement of Amazing Grace, the popular Gospel song that is well loved and often played. Pat's version is additive to the overall simplicity and beauty of its reverent quality. It was available in both a simpler and buildup arrangement and comes with detailed measure by measure, highly visual. video instruction. I encourage both the beginner and intermediate player to give Pat's teaching material, a shot, as his products are affordable and complete. Although I don't personally know Pat,  he seems to be a down to earth fellow who will work with you if there is a download problem due to the size of the files as Dropbox links are an available option should file resume be necessary due to slow servers as was my case."

-best regards for a successful teaching venture- Jerry House

Jan. 2016

What people say about www.learningwithpat.com :

"I have met Pat a few years ago, when he hired me as a drummer in his band called Melodic Murmur.
For many years I have wanted to learn guitar, and playing with him made me want to go for it.
During all my life as a musician, I have never met anyone so inspiring.
Pat knows a lot about music, he has a deep understanding of what it all is, and he loves to transmit his knowledge.
Above all, he can teach you how to learn.
That's what he's done for me.
I've had the privilege to have him as a face to face teacher for three years, and he's made of me the guitarist I am today.
Pat, I do love you, keep up the good work with LWP !"

Richard G. - France

Jan. 2016